Jolie Holland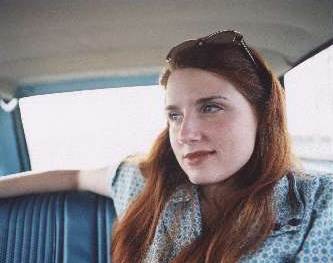 Jolie Holland
made me cry. I was huddled over a listening station at
Pure Pop Records
this past weekend checking out Holland's latest disc,
Springtime Can Kill You
, and the horns on
Crush in the Ghetto
got me. I stood there, tears streaming down my face, dumbfounded. I can barely explain it - the horns we so beautiful and sad, perfectly matching Holland's vintage voice.
Jolie Holland was a founding member of the Vancouver-based all female old-timey bluegrass/blues/folk outfit
The Be Good Tanyas
, but left after contributing tracks to the group's stellar debut,
Blue Horse
. While I enjoy The Be Good Tanyas for a breezy summers drive, I appreciate Jolie Holland for the darker more introspective moments. Her solo work is equally beautiful, but in a sadder/smokier way. The Be Good Tanyas are to Vancouver as Jollie Holland is to her native Texas.
Springtime Can Kill You
is Holland's second proper release (the first,
Catalpa
, was a collection of early demos). I have yet to pick up a copy (it was released on Tuesday, but the local shop,
Buch Speiler
, lived up to their reputation and didn't have a copy on hand), but gauging from what I've heard and the early reviews I've read (
Metacritic has it at 87
, above
Springsteen's great Seeger Sessions
, the
Arctic Monkeys' debut
, and
St. Elsewhere by Gnarles Barkley
), it'll fulfill my needs when I'm searching for a soundtrack to life's beautiful sadness.
And excitedly, Higher Ground has booked Holland and her "sepia-toned song noir and billowy voice":
Jolie Holland w/ Sean Hayes - July 13 - Higher Ground, S. Burlington
Purchase all of Holland's discs at
Insound
Springtime Can Kill YouJolie Holland - Crazy Dreams.mp3Jolie Holland - Springtime Can Kill You.mp3EscondidaJolie Holland - Old Fashion Morphine.mp3Jolie Holland - Black Stars.mp3CatalpaJolie Holland - I Wanna Die.mp3Jolie Holland - Black Hand Blues.mp3